In the search for the next pillar of terrorism, Clay is forced to involve his wife in an operation to find some information against a top level event organiser. Rebecca, the organiser finds out that Clay and Parrish are digging into her. She tells them now that she knows they're FBI, they should help her get out the life. Surprised, the task force agrees to help her in exchange for information on the people linked to terrorism.
Clay gets upsets about not being able to tell his wife about his secret operation but continues with the mission. Ryan gets some help from the reporter Sasha, to whom Ryan had leaked classified information. The two people who killed Leon are then found leaving his apartment and then entering another one, in which they set us some devices and do something with a laptop lying there.
Harry is welcomed to the team and is asked to sit the current mission out due to his obnoxious behaviour. Even though this upsets him, he agrees to do it. Alex and Rebecca talk about Alex's place in the agency and history.Rebecca is talking with a man related to the task force's mission, and all members are keeping an eye on them and disguising themselves in the crowd. Suddenly, their comms short out and someone shoots Rebecca and his associate in the back with a sniper. Just before this, Harry, who had meticulously placed a tracker on their enters the field and joins the mission.
Harry, without telling anyone that he has found the sniper, ambushes him from behind and the man turns out to be . . . wait for it . . . Sebastian Chen. Yes, the priest from The Farm who had troubles with Harry. Rebecca and her associate die, and that leaves Alex in sorrow even though she did everything she could do to save them.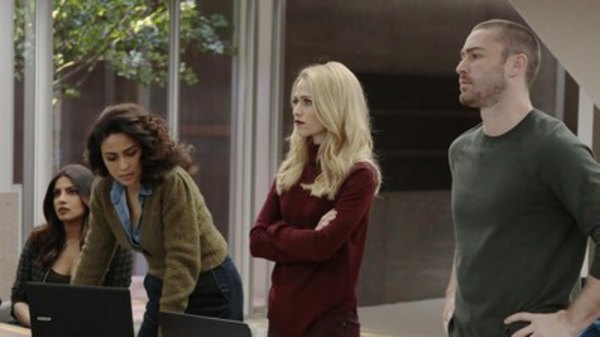 Clay, who just rushes out of the task force's bunker in anger as sabotaging his relationship with his fiancee was in vain. I think I saw some tears there, but anyway, Shelby explains him and then reaches out to his soon-to-be wife Maxine and successfully persuades her to trust his fiancee.
Sasha and Ryan advance with their relationship, Alex asks Raina and Shelby to reach out to their sisters.  Raina is seen entering her apartment, which was set up by the two people who killed Leon. She is able to defend herself against one of them but the other one steps in and captures her. Is is true what Leon said? Are THEY coming for all of them? Leon is gone. Now Raina. Who'll be next? Who are THEY? In the end, Harry calls Alex, telling her that he is quitting the task force. After exchanging goodbyes over the phone, Sebastian is seen holding Harry at gunpoint. He probably killed him, as Russel Tovey, who plays the character of Harry Doyle, has left Quantico. We didn't see Dayana in this episode, as she was busy with a case and her absence would've exposed her cover.
Who is Sebastian working for? What will happen with Sasha and Ryan? What will be Raina's fate? Too many questions.
Rating: 8.5/10