I really don't understand why there was a need for a Blacklist spin-off focusing on Tom Keen(Ryan Eggold). Maybe because The Blacklist was taking a month long hiatus from shooting. I'm still unsure.
So, this series still retains the thrill, drama, suspense and action that The Blacklist is famous for. Scottie Hargrave, Tom Keen's mother, who was seen in season 4 of The Blacklist is now running Halcyon, his husband Howard Hargrave's billionaire empire due to his death. But, it turns out he isn't really dead and asks Tom to join Scottie's company to find out who tried to kill him.
This episode takes us to a crashed plane site where Tom and Solomon are sent to discover what happened. It turns out that the plane was filled with dead people. The both of them are advised not to touch anything at the site but as soon as they have no eyes on them, to create a diversion, Solomon creates a fuel leakage and Tom runs away to find a town named Independence. The town was a center for  Russia's Illegal's program, that was launched during the Cold War to train Russians to live like Americans. Tom and Nez enter the fake town, known as Independence, to find out what's going on. They are given new aliases and put in new families by the organisation running the program.
While Nez and Tom are trying to find out what's going on and who's doing what, Scottie and Solomon are running their own operation regarding a secret bank account that Howard used to transfer money into, which was the main reason why Tom and Nez were sent there.
While they both are struggling to keep up with their newly found families, they infiltrate the Russians' main communication centre and find out that the Russians are being operated on to resemble the Americans, take their places by killing them, and then launching attacks on American soil so that Russia is not found guilty. While Nez and Tom recover the names of three Americans who are going to get killed by the Russians, they get trapped inside the building by the Russians.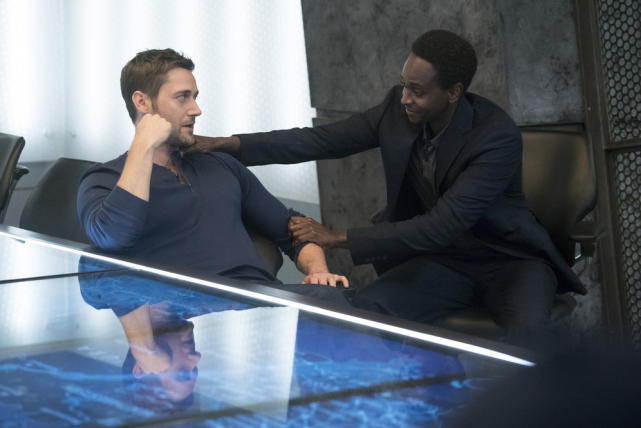 They somehow, bomb their way out of the building and reach America. But it is too late for the Americans for they have already been killed. The Russian impersonators, who are about to launch an attack on a court are apprehended by Solomon and team and shot dead.
Tom goes back to Howard and tells him everything about what happened and something about an Operation Blue Star. We get to know more about Nez, who gets emotional and tells Tom what all people she had to see in war.
Rating: 9/10